Tucked into a remote corner of a quiet plaza, just off the intersection of Tomken and Canadian Place, sits a hidden gem in the city of Mississauga. As you pull into the plaza, turn to the right of the roundabout, and left into a small parking lot you spot it. Nestled next door to a family owned Latin American restaurant sits a quaint little café called Studio.89. The sign reads "Studio.89: Humans. Animals. Planet." and "Fair Trade Café."
Upon first glance, this place seems like any ordinary café: tables and chairs for customers, a front counter to order at, and a menu offering various espresso options and baked goods. But when you look a bit closer, take in your surroundings, it begins to dawn on you that this place is far more than meets the eye. With cozy couches, board games, vegan treats, fair trade coffee, inspiring messages written on walls, and a huge chalk board calendar filled with events, the atmosphere of Studio.89 is one of "All are welcome here."
Born in March of 2014, Studio.89 is a not-for-profit community hub and fair trade vegan café, hosting weekly events and workshops with an emphasis on social justice and community support. But who are the masterminds behind this magical place? Why, none other than Mississauga's own YTGA, or Youth Troopers for Global Awareness. YTGA is a youth led non-profit, mobilizing and empowering young people for social justice through the arts, events, workshops, campaigns and special projects.
Formed in 2006, a group of passionate students were determined to bring about awareness of global and local issues through creative writing, visual art, theatre and spoken word. In 2011, they assessed 3 gaps in resources available within our city: access to fair trade goods, lack of free venues for not-for-profits, and lack of resources for students. Three years of dealing with zoning, fundraising, and garnering community support later, Studio.89 is up and running!
"their faces light up in surprise and delight when they hear that their café purchase is actually a donation"
So what does a typical day at this café look like? The truth is, there is no typical day at Sudio.89! Hosting over 600+ free and pay-what-you-can events each year, Studio.89 provides not one, but two spaces for anyone in the community to host events, seminars, workshops, classes etc. Oh, and did I mention it's free not only to attend, but to host as well? So long as your event is open to the public, you can host your event free of charge (private events require a fee). On the "Events" tab on their website, there is an event calendar that is constantly being updated to let the community in on all of the exciting things going on in the café (downstairs) and the Artademic Centre (upstairs). These events range anywhere from open mics, panel discussions, support groups, town halls, board game nights, and much more.
Having worked with them for just over a year, I've seen first hand the positive impact this place has on people. As a barista, it brings me immense joy when people walk in for the first time and I get to explain who we are and what we do—their faces light up in surprise and delight when they hear that their café purchase is actually a donation, and that they're helping support their community.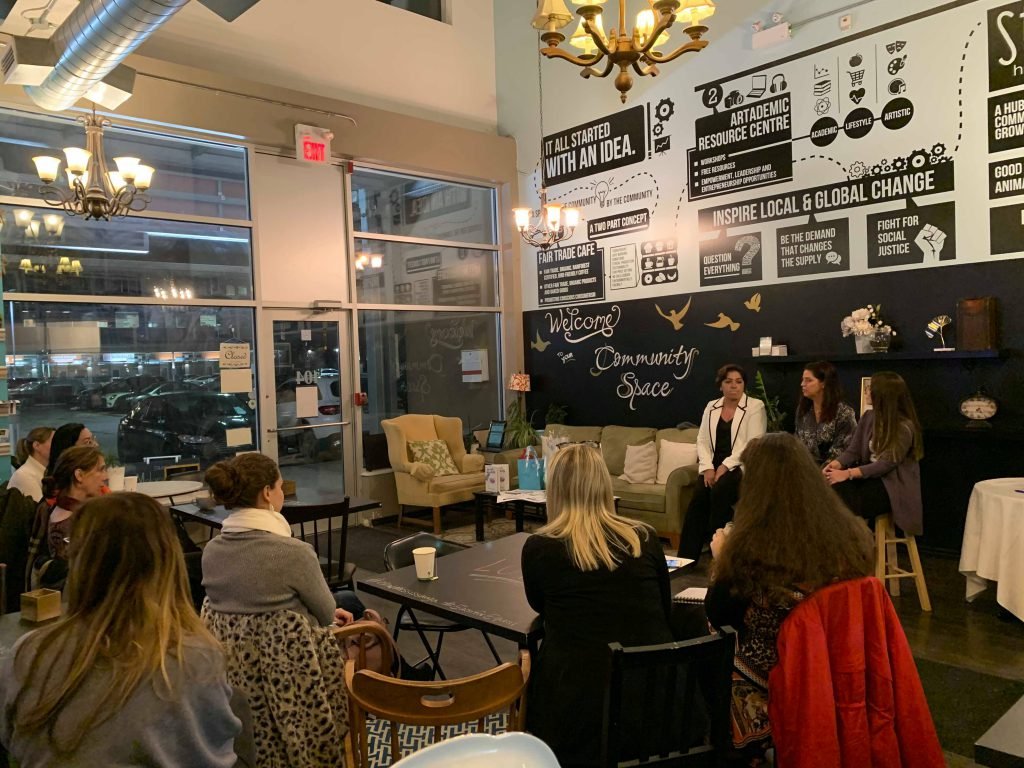 Not only does Studio.89 uplift the community, but it uplifts its staff and volunteers to. From at risk youth, to adults with barriers to employment, to people simply seeking volunteer opportunities, Studio.89 sets up it's volunteers for success by accommodating to their schedule, and working with them to provide a volunteer experience that utilizes their unique skills and touches on their interests. The board of directors and management are in constant collaboration with the baristas and kitchen staff, giving them opportunities to assist with events and conceive of new/creative pursuits for programming.
Now more than ever, Studio.89 needs your help. The Covid-19 pandemic has been a severe detriment to small businesses, and this community hub and café is no exception. Studio.89, on top of trying to re-open as part of Ontario's phase 3, is opening a second location in 2021. They're looking for 1 time or monthly donations, the amount is up to you! It's because of the community and government support that Studio.89 can continue to be a resource, safe space, and non-profit/arts incubator for the city of Mississauga and its residents. You can donate at www.studio89.org/donate, join their news letter for updates on what's happening at the Café, and follow them on Instagram at studiooo89.